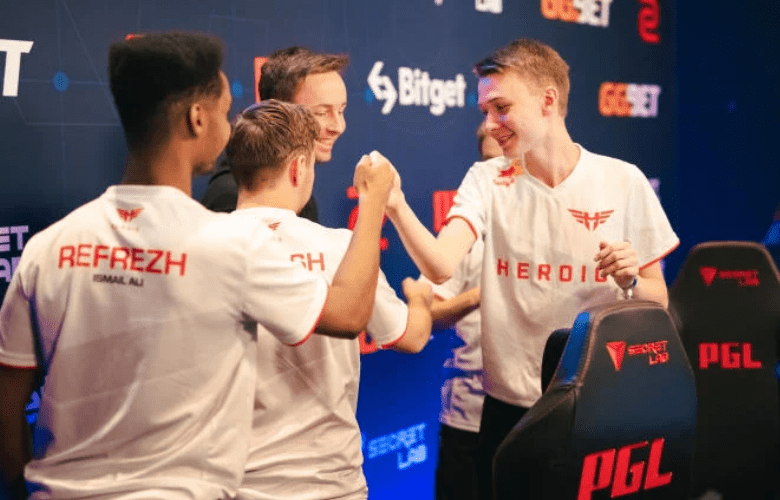 Following their victory over Astralis, Heroic won another Danish Duel to earn their place in the Champions Stage.
Following a 2-1 victory over fellow Danish side Copenhagen Flames, Heroic became the sixth team to advance from the Legends Stage. Heroic appeared to be on track to win the series after handily winning their first selection, but CPH Flames kept things interesting by forcing Casper "cadiaN" Mller's side to play the third map.
Though Martin "stavn" Lund helped Heroic win the series, Nico "nicoodoz" Tamjidi proved to be a strong competitor on his own, with an AWP ace on Overpass and other clutch rounds to keep his team in the series. cadiaN's team, on the other hand, did not falter, erupting with joyous yells and tears of pleasure after winning a top 8 berth.
In tomorrow's 2-2 matches, the Copenhagen Flames will have one more chance to advance to the playoffs or be ousted at the final hurdle.
On the first map, Nuke, Heroic went all out on Copenhagen Flames. On the T side, Ismail "refrezh" Ali and Rasmus "sjuush" Beck made easy work of their opponents, cruising to an 11-4 advantage. Moving into the second half, Heroic left no room for their opponents and finished the first map without dropping any more rounds.
Copenhagen Flames seemed more at ease on Ancient than Nuke, and they jumped out to an early lead on their T side, punishing Heroic for their aggressive play across the map. Sjuush was a thorn in Copenhagen Flames' side, shutting down many rounds and pushing Heroic close at the half, but not before nicoodoz secured eight rounds with a quad-kill to lead 8-7. CPH Flames ascended to match point when Heroic stagnated after landing on 10 rounds, eventually winning 16-13.
Heroic had a 6-1 lead in Overpass, but Copenhagen Flames responded with four rounds of their own, one of which came from an AWP ace from nicoodoz. The first half remained competitive as both teams battled for the lead, but Heroic made the initial move in the second half, jumping into double-digit rounds with a strong CT team. After a cadiaN clutch to secure 13 rounds, he and his teammates defeated Flames 16-11.