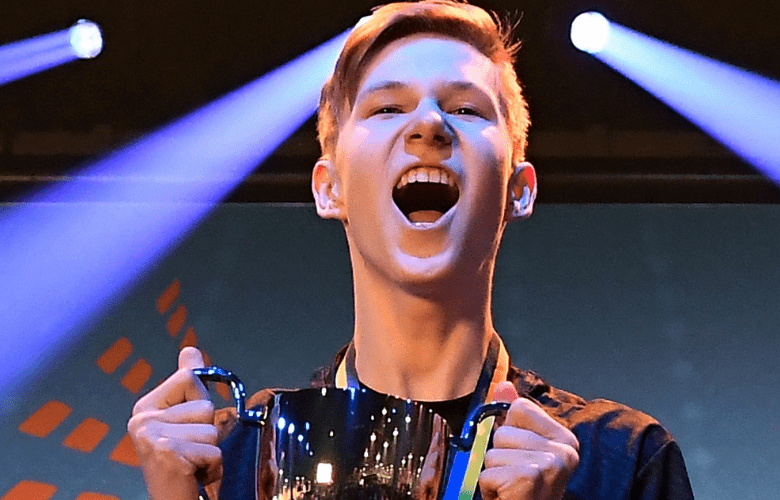 In the DreamHack Open Finals, two European Fortnite Battle Royale icons return to the top
The DreamHack Open with Fortnite was completed today, with 50 European duos competing for the $23K USD grand prize. Three preliminary heats and the Semi-Finals laid the groundwork for a thrilling climax, with finalists having eight games to gain elimination and placement points. It would be difficult, given aspects such as Storm Surge, drop spot fights, and other unpredictability. All of this added to the intrigue surrounding the EU DreamHack Finals.
The field, like the one in NA East yesterday, was one of the greatest we'd seen so far. MrSavage, benjyfishy, rezon, Hen, and noahreyli were among numerous players vying for the DreamHack Open Championship. Let's take a look at how the European action unfolded, with prize money and glory on the line.
Rezon and Hen, MrSavage and Benjyfishy, and DKS and BadSniper all advanced to the championship match with a genuine chance at winning. The odds were stacked against MrSavage and Benjyfishy, who had to compete against another team in Lazy Lake every time. In true MrSavage flair, he won enough eliminations in the final game to win the DreamHack Open.
MrSavage and Benjyfishy scored 400 points in eight encounters, including 33 eliminations and one Victory Royale. It was a once-in-a-lifetime performance for two Fortnite Battle Royale legends. The former World Cup Finalists overcame all barriers and are back on top.
Hen and Rezon were in command moving into the pivotal game eight. Regrettably, Rezon was knocked out early in the match, leaving Hen alone to lay the two on his back. He made it interesting by accumulating a few eliminations before collapsing.
MrSavage grasped additional placement and elimination points, and the two could only watch. While the outcome was unfavorable, the $14,500 USD was a good consolation prize. Rezon and Hen earned 387 points, one Victory Royale, and 30 eliminations.
MALIBUCA AND MERSTACH DRIVE STEAMY STACKS INTO THIRD
Merstach and Malibuca, a Latvian/Russian duo, looked strong before the DreamHack Open Finals began. With an uncontested Steamy Stacks, they had amazing odds of finishing in the top three. Merstach and Malibuca did just that, and they did it with remarkably consistent performance.
Merstach and Malibuca finished with 336 points and 25 eliminations despite not winning the Victory Royale. They won $10.8K USD for third place and are definitely a team to watch in future pair events.
FINAL LEADERBOARD
1st: NRG benjуfishу, 100T MrSavage – 400 points ($23,000)
2nd: GUILD Hen 75., rezon ay лол 7 – 387 points ($14,000)
3rd: Merstach., TT9 Malibuca – 336 points ($10,800)
4th: MCES MONKEY DKS, MCES BadSniper – 323 points ($9,200)
5th: apeks IDrop 7, 00 Endretta – 319 points ($7,550)
6th: Falcon Andilada, хsweeze – 303 points ($5.500)
7th: Vitality Snayzy, naуte – 301 points ($4,400)
8th: lucky Mr.QB 2.0, Atlantic Zhiny – 290 points ($3,850)
9th: VCTRY Kefyy, NdGG pkr – 270 points ($3,300)
10th: KPI Crow, KPI 조세 – 267 points ($2,900)
11th: Playwell advisе, jestem synxx – 266 points ($2,400)
12th: BL Pablo 645, FLAMES SWAG – 257 points ($2,400)
13th: GAMMA Obitoo, Zeerox – 256 points ($2,400)
14th: airknn., Grizi Lаizеn – 254 points ($2,400)
15th: scriwy, jamshood – 246 points ($2,400)
16th: BL Raifla, Centric jetsku – 241 points ($1,700)
17th: Fastroki, TT9 Kylie – 232 points ($1,700)
18th: passivq, G2 Летше – 221 points ($1,700)
19th: AOS Coope, AOS Falex – 212 points ($1,700)
20th: Фасинан, VCTRY volko44 – 211 points ($1,700)