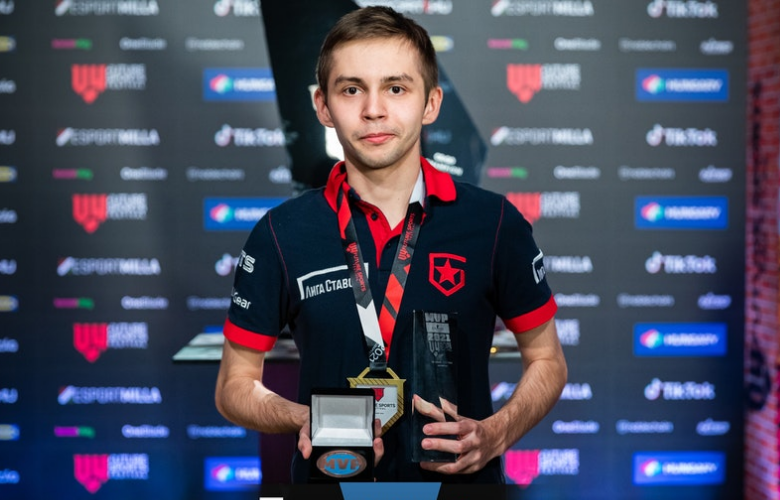 Gambit's AWPer topped the competition in Budapest to win the individual award.
Dmitry "sh1ro" Sokolov has been declared the BitSkins.com MVP of the V4 Future Sports Festival by HLTV.org, following a spectacular individual performance that saw the AWPer lead Gambit to victory.
The 20-year-old was a frightening presence in the run-up to the best-of-five grand final, putting up three maps above a 2.00 rating and averaging a 1.67 rating overall in the group stage series against eSuba and the first series in the playoffs versus Enterprise and BIG.
Although sh1ro decelerated in the title decider, he nevertheless went on to kick off the title tiebreaker against Entropiq with another vital performance on Vertigo, assisting Gambit to get off to an early lead in the series and overcome Entropiq's attempt at a reverse sweep.
The Russian AWPer now has three MVP medals in his collection, having won the first two in Gambit's title-winning performances at IEM Katowice in February and IEM Fall CIS in October.
Rating: 1.41 (#1)
ADR: 85.2 (#4)
KPR: 0.89 (#1)
DPR: 0.55 (#1)
KAST: 81.7% (#1)
Impact rating: 1.42 (#1)
Clutches won: 13 (#1)
Opening duel success: 75.5% (#1)
Before the end of 2021, three additional MVP awards will be awarded: for the BLAST Premier Fall Final (November 24-28), the IEM Winter (December 2-12), and the BLAST Premier World Final (December 14-19).
So far in 2021, the following MVPs have been named:
BLAST Premier Global Final – 
 s1mple
cs_summit 7 – 
 Jame
IEM Katowice – 
 sh1ro
ESL Pro League 13 – 
 Ax1Le
FunSpark ULTI Europe Final – 
 FaNg
DreamHack Masters Spring – 
 s1mple
Flashpoint 3 – 
 frozen
EPIC League CIS – 
 Hobbit
IEM Summer – 
 Ax1Le
BLAST Premier Spring Final – 
 Hobbit
StarLadder CIS RMR – 
 s1mple
IEM Cologne – 
 s1mple
ESL Pro League Season 14 – 
 s1mple
IEM Fall CIS – 
 sh1ro
IEM Fall Europe – 
 dev1ce
PGL Major Stockholm 2021 – 
 s1mple
V4 Future Sports Festival – 
 sh1ro