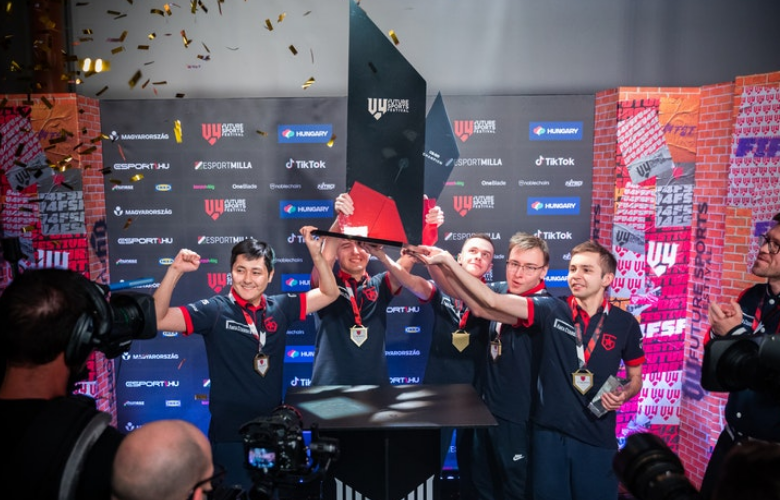 Entropiq battled back from a 2-0 deficit to force a competitive series, but Gambit took the win on LAN with a dominating decider game.
"We're here to gather more LAN experience," Vladislav "nafany" Gorshkov remarked in an interview during the tournament, and Gambit got plenty of it, as the V4 Future Sports Festival grand final featured all five maps.
Gambit were huge favorites going into the match against Entropiq from the CIS, with their AWPer Dmitry "sh1ro" Sokolov sporting a remarkable 1.67 rating heading into the BO5 encounter. However, it was far from a routine game, with the eventual MVP winner unable to maintain his high level of play.
nafany's team took a 2-0 series lead, appearing secure as they won Vertigo and Ancient, but things quickly spiraled out of control as they needed just one more map to win. A well-performing Entropiq team took advantage of flat results on Overpass and Mirage, extending the match to Dust2. Gambit, on the other hand, awoke on the last map and ended the series, winning their first LAN title with this five-man squad.
Entropiq had strong beginnings to both half on Vertigo, the game' first map, but Aleksey "NickelBack" Trofimov's team couldn't repeat their triumph from the Major a few weeks ago on the same map. Nafany dominated the board in terms of entry effort (7 opening kills), and sh1ro delivered another masterpiece (1.43 rating), giving Gambit a 16-10 victory.
Entropiq struggled on Ancient, as they couldn't find any holes on their T side, with Viktor "Lack1" Boldyrev in particular struggling. Gambit led 11-4 at halftime, and after a strong T start, they increased their lead to 15-7. Entropiq were unable to bridge the massive gap and eventually conceded the map to a Sergey "Ax1Le" Rykhtorov 1v2 clutch. NickelBack stepped up in back-to-back rounds to keep his team alive, but Entropiq was unable to bridge the massive gap and finally conceded the map to a Sergey "Ax1Le" Rykhtorov 1v2 clutch.
Entropiq's early success on the CT side of Overpass was aided by an ace from NickelBack who recovered a 2v5 for them, with Vladislav "Krad" Kravchenko's aggressive play earning him 17 frags by the time they were up 8-0. Gambit had used up all four of their tactical timeouts before the end of the next round, but it had little effect because their offense was just two rounds long. The game was on its way to a quick finish when Ax1Le grabbed an unusual 1v2, allowing Gambit to mount a comeback. The favorites rallied to within 15-13, but Entropiq converted the map with a concerted B hit.
If there were cracks in Gambit's armor on Overpass, they were glaring on Mirage. Entropiq played well against the Terrorists, but dropping two 2v4s and two 2v5s in a single half was fatal for nafany's team. They fell behind 10-5 on defense, and Entropiq never allowed them an opportunity to recover, with IGL NickelBack leading by example and finishing with a 1v2 on A.
As Dust2 began off, Adam "Dinko" Hawthorne said, "They turned it off and on again." Gambit looked nothing like the struggling squad that had been present on the previous two maps, blazing on all cylinders from round one. As nafany and Abay "Hobbit" Khasenov repeatedly blocked down approaches, Entropiq struggled to find holes or get the bomb down for a 12-3 half. Gambit nearly won the map with a pistol round win and conversion, defeating Dust2 16-4.
Final standings for the V4 Future Sports Festival 2021:
1. 
Gambit – $171,770
2. 
Entropiq – $68,708
3-4. 
Fiend – $22,902
3-4. 
BIG – $22,902
5-6. 
Movistar Riders – $11,451
5-6. 
Enterprise – $11,451
7-8. 
Sinners – $8,588
7-8. 
eSuba – $8,588