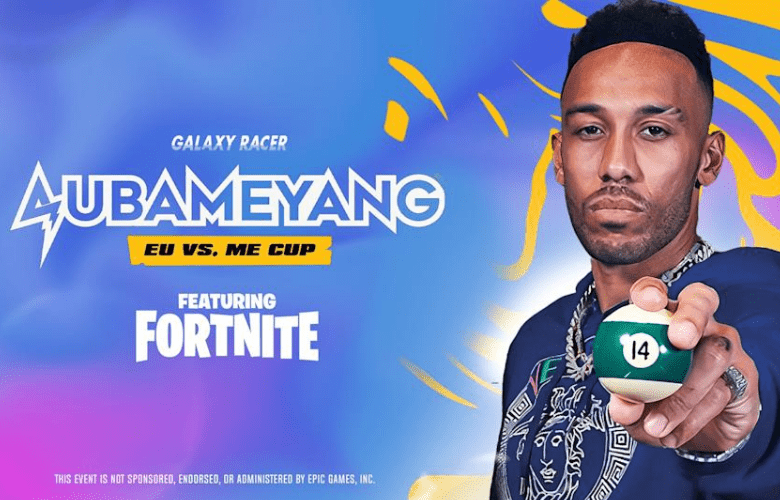 Galaxy Racer, a Dubai-based esports organization, has confirmed that Arsenal footballer Pierre-Emerick Aubameyang and his brother William-Fils Aubameyang will participate in a Fortnite event.
On August 1st, the Galaxy Racer Aubameyang Cup will get off, with competitors competing for a part of the €10,000 (£8,543) prize fund.
The duos tournament is being billed as the first-ever online cross-regional event. It will have a home and away legs to ensure a "fair competitive platform for players" and to avoid any connectivity concerns across areas.
All across the event, both brothers will make cameo appearances. This features interviews with Galaxy Racer's Fortnite players, Milan'milan' Lopes and Maciej 'Teeq' Radzio, as well as a 2v2 encounter.
The Galaxy Racer Aubameyang Cup will bring together professional, amateur, gaming personalities, and athletes, and will be the first event of its kind to bring players from the Middle East and Europe to compete in an online tournament that is highly competitive and fair, according to Paul Roy, CEO of Galaxy Racer.
"Our goal is to provide up-and-coming professional players an opportunity to showcase their abilities, provide opportunities for players to compare their abilities to those of players from other locations, and create an unforgettable event for spectators to watch."
Pierre-Emerick Aubameyang makes his professional debut in this tournament. After partaking in a virtual Grand Prix organized by Formula One, it was announced that the Arsenal striker was considering launching his own esports company in 2020.
The Aubameyang Cup qualifiers begin on August 1st. According to the press release, 150 teams from the Middle East and Europe will compete for a spot in the Grand Finals on August 3rd. The Grand Finals will feature the top 24 teams.
The competition will be televised live on Galaxy Racer's Twitch and YouTube accounts for all four days.