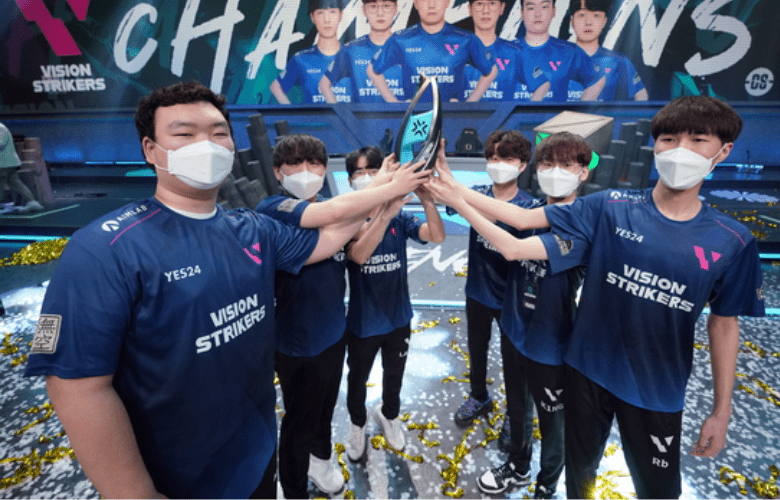 The Kings of Korea are on pace to seize a new throne in the near future.
Vision Strikers have risen from VCT Masters Three Berlin's Group of Death, Group A. Their 2-0 series win over Acend today won the top Korean team a position in the playoffs alongside 100 Thieves and Team Envy, as well as a guaranteed spot at the VALORANT world championship tournament, Champions.
The series began with Vision Strikers' selection of Haven, and the Korean team surged out to an early lead with an aggressive approach that made it difficult for Acend to even get plants down. Acend's attacking side had a quiet first half. Starxo's spectacular clutch was matched by an even more stunning one from BuZz on the Jett-Operator combo, giving Vision Strikers an 8-4 lead. BuZz was able to outduel cNed all around the map because to stax's near-perfect flashes and faultlines on Breach. Even cNed's heroics couldn't generate the rounds Acend required, and Vision Strikers defeated Haven 13-7.
The searing hot attacking side of Vision Strikers moved into the freezing Icebox and blitzed into the A site in the opening pistol round. They took the first five rounds of the map before Acend got their first using pistols of all things. However, a superb counterattack by Vision Strikers immediately stemmed the momentum.
Nevertheless, a couple more improbable rounds from Acend cut Vision Strikers' advantage enough to give them hope, and they went into the second half behind 7-5 after a fantastic clutch by cNed. Another Vision Strikers pistol round slowed the momentum, but the two teams traded bullets as Acend gradually reduced the gap. But it wasn't enough, as Vision Strikers went on defense for three straight rounds, denying the comeback and winning the map 13-9 thanks to a spectacular shock dart plant denial by Rb.
This victory gave Vision Strikers a playoff position in Berlin as well as a confirmed spot at Champions thanks to VCT points won. Even though they lost, Acend remained upbeat throughout the series, clapping and cheering throughout timeouts on both maps.
Their stay in Berlin isn't over yet. Later on, Acend will await the winner of SuperMassive Blaze vs. PaperRex.