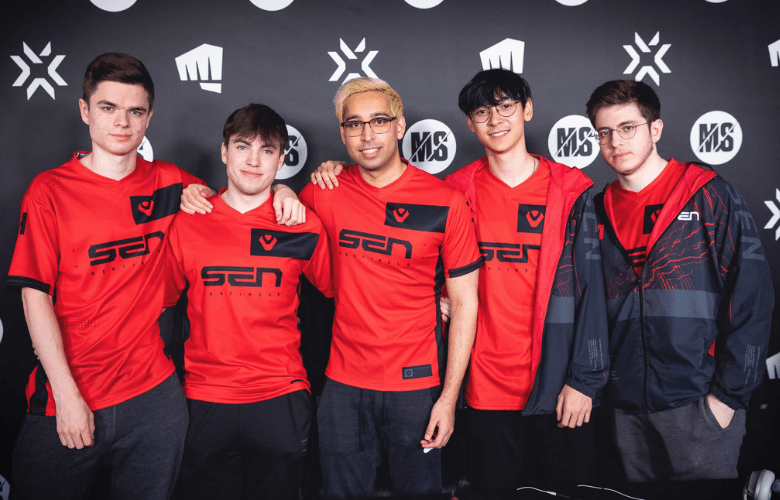 All hail the rulers of NA.
With a 3-1 victory over 100 Thieves in today's grand final of the NA VCT Stage Three Challengers Playoffs, the Sentinels VALORANT roster cemented their position atop North America. Sentinels have now won all three North American VALORANT regional finals: Masters One, Stage Two Challengers Finals, and now Stage Three Challengers Playoffs. No other team in the globe has been able to emulate their supremacy inside their region.
Bind, a surprising decision for a 100 Thieves team that doesn't play there very often, kicked off the series. With no set composition on Bind, 100T said afterward that they threw a few curveballs by putting steel on Jett and Hiko on Breach. Despite the unfamiliarity, they performed admirably on Bind, particularly on defense. Nonetheless, a superb game from TenZ on Reyna proved decisive, with Sentinels winning map one 13-11.
By taking Sentinels' first choice of Breeze with more traditional composition, 100 Thieves tied the series. Late in the second half, they trailed 11-8 before winning five straight rounds on their offensive side to defeat Breeze.
However, as competitive as the first two maps were, Sentinels displayed an unimaginable degree of dominance in the next two maps. SicK showed that Haven is his personal playground on Phoenix once again, slamming 100T on defense in the first half and led 9-3 at halftime. Haven was defeated 13-6 by the Sentinels. Split was practically a rematch, with the exception that Sentinels took the lead early in the first half on their attack side. A 9-3 lead at halftime swiftly transformed into a 13-5 Sentinels victory, and they went on to win the grand finals 3-1.
Sentinels said after the game that they were unconcerned about any teams targeting them in Berlin, but that they were looking forward to playing teams from the EMEA region. Sentinels need to reexamine some of their compositions in 100T, according to zombs, specifically their triple-initiator composition and having steel play Jett on Bind.
With a Champions spot already guaranteed thanks to their VCT points, Sentinels' competition for the remainder of the year will be worldwide, with Masters Three Berlin and Champions. They'll be looking to build on their first successful run in international offline VALORANT, when they went undefeated in Masters Two Berlin and didn't drop a single map. Sentinels will be joined by 100 Thieves and Team Envy at Masters Three Berlin, which begins on September 9.