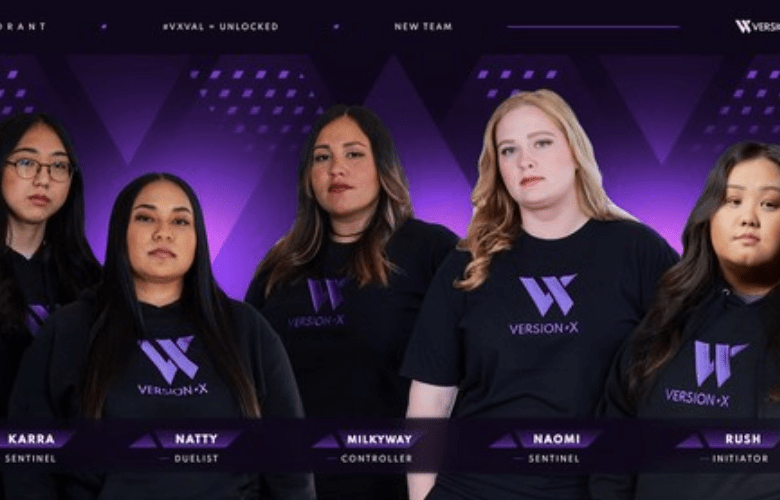 Women's VALORANT is still growing rapidly in North America.
Today, Version1 announced the formation of an all-female VALORANT squad.
The new roster, known as VersionX, will compete in the third NA VCT Game Changers event, which will start at the end of September.
Kiara "Milkyway" Blue Kukilakilaokalani Makua (in-game leader/controller), Natalia "Natty" Jackson (main duelist/secondary flex), Rachel Lynn "Rush" Hang (initiator), Katherine "Karra" Lee (smoker/Sage), and Naomi Sauvola (sentinel/flex Skye) make up the roster.
These players aren't unfamiliar to one another, as the majority of the roster (except Naomi) competed as Just Breathe at the second NA Game Changers event. In the first round, that team was defeated by Naomi and CLG Red, who went on to face Cloud9 White in the grand finals. Naomi has been with CLG Red since March and will now leave the organization.
The new VersionX roster will be looking ahead to the next Game Changers event, with qualifiers starting just one day after the roster was revealed. They'll be one of several women's teams vying to dethrone the Cloud9 White roster. C9 White completed first in both Game Changers events, going to drop only one map throughout both tournaments.
At the Version1 HQ in Minnesota, VersionX will join the V1 Rocket League team, the V1 men's VALORANT team, and the Minnesota RKKR Call of Duty League team. The RKKR lineup for Call of Duty: Vanguard was revealed just two weeks before the VX announcement, and the V1 VALORANT team is about to reveal its new fifth player.