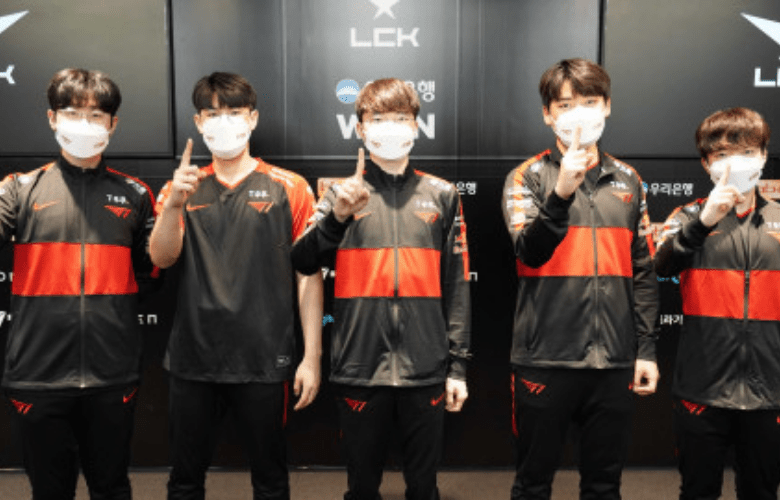 T1 finished the regular season undefeated and with an 18-0 record after defeating DRX in the LCK 2022 Spring Split today. This is the first time in LCK history that a team has completed a split without losing a single series, making it a historic moment in the game's esports history.
T1 was on their way to a perfect split in their stellar season this year, breaking their own record of most LCK wins in a split earlier this month at 14-0. T1 set the record in 2015, while still operating under the SK Telecom T1 brand. T1 is already a force to be reckoned with, but Faker and the young guns will be looking to expand T1's international dominance this year, and they demonstrated fantastic adaptability and impeccable macros throughout the tournament.
The first game against DRX had a relatively calm start, with both teams attempting to gauge their opponents as the game progressed. T1 skillfully nullified DRX's advantage by taking turrets after DRX secured a few kills to take the lead in the game. T1 increased the tempo of the match by getting some picks on the opponent to extend their lead in the game. T1 won teamfights in the mid game with massive poke damage from Zeus' Jayce, despite DRX capturing their first dragon.
T1 played smart after securing a massive lead by baiting opponents into bad teamfights near objectives. The team managed to capture all of the dragons in order to obtain the Cloud Soul and become unstoppable in the match. They won another crucial teamfight in the enemy jungle and marched through the mid lane to finish the first game in style.
To begin the next match, Faker locked his first-ever Veigar on the stage. Veigar, his predator, wreaked havoc across the Rift. This match appeared to be messier and more full of early game teamfights than the first. T1 looked sharper than DRX, converting many of their roams to kills, and took a commanding lead in the match after Zeus' Irelia solo-killed Kingen's Gnar. DRX responded by countering the majority of T1's aggression, but they were unable to match their opponents. T1 always came out on top in skirmishes and continued to win teamfights and secure dragons, leading them to the Baron and another won teamfight to cap off the series on a high note.
On March 23, 2022, the LCK 2022 Spring Split playoffs begin, with DWG KIA taking on Fredit BRION.