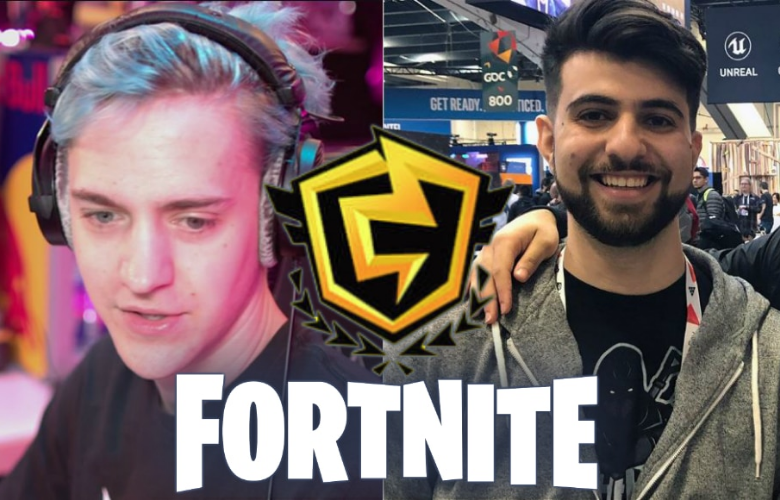 Ninja and SypherPK tease upcoming Fortnite tournaments.
Over the years, Tyler "Ninja" Blevins' name has become synonymous with Fortnite. When the Epic Games-developed Battle Royale title captured the world's attention, the former professional Halo player exploded in popularity. Ninja's career highlights include generating hundreds of thousands of viewers at the peak of the game, playing Fortnite with rap artist Drake, and becoming a member of the Icon Series. Ninja even had a brief stint as a competitive player before moving on to other endeavors.
Today, the Twitch star teased a return to competitive gaming, where he'd face off against his friend and frequent collaborator Ali "SypherPK" Hassan. Ninja and SypherPK would compete in tournaments "for fun," but it would be a fun experience for their fans.
Following a weekend of FNCS viewing parties, Ninja took to Twitter, asking, "Should me and @sypherpk play Fortnite competitively for fun?" " He and SypherPK spent a few days watching the best players in the world compete in the FNCS Chapter 3 Season 1 Qualifier. It's unclear what prompted Ninja to return to competitive Fortnite, but seeing high-level Fortnite most likely played a role.
SypherPK responded an hour later, saying, "Shesh". Fortnite's competitive Twitter account also joined in on the fun. This appears to confirm that the content creators' team may compete in upcoming Duos Cash Cups or even next season's FNCS competition.
We've seen the two compete in tournaments here and there but have not found much success. Regardless, Ninja and SypherPK would likely garner thousands of viewers if this tease comes to fruition–an overall win for both.
A Brief Walk Through Ninja's Competitive History
Ninja's list of accomplishments appears to be endless, with much of it stemming directly from his Fortnite success. Many people considered the now 30-year-old Twitch streamer to be the best Fortnite player for a time. In 2017 and 2018, he would routinely annihilate lobbies and classic Friday Fortnite tournaments before the competitive landscape evolved.
The Fortnite legend nearly qualified for the Fortnite World Cup with former duo partner Malachi "Reverse2k" Greiner, but fell short by a few points. The two players competed together in Chapter 2 Season 1, where they were joined by FaZe Clan members Nate "Nate Hill" Hill and Trevor "Funk" Siegler for the Fortnite Champion Series. This team advanced to the Grand Finals, finishing eighth out of 20 teams. Ninja's competitive Fortnite career has largely been put on hold since then.
At the very least, Ninja and SypherPK's return to competitive Fortnite should raise awareness and general interest. The next Duos Cash Cup will be held on Monday, February 28. Between now and then, we'll most likely have a better idea.