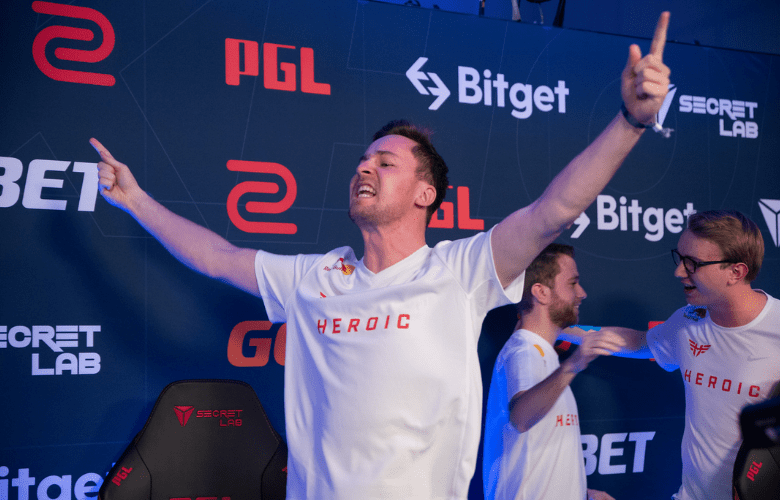 Heroic will start taking over the main stage on Saturday in the PGL Stockholm Major Semi-Final after defeating Virtus.pro in a best-of-three Quarter-Final.
Match Details :
Heroic

Vs

Virtus.pro

Time

: 21:00 PM IST

Venue

: Avicii Arena in Stockholm, Sweden

Match format

: Best Of Three

Match type

: Played on LAN

Tournament

: PGL Stockholm (Valve Major Championship Tier)
Veto:
Virtus.pro removed Nuke
Heroic removed Dust2
Virtus. pro-picked Mirage
Heroic picked Ancient
Heroic removed Vertigo
Virtus.pro removed Overpass
Inferno was leftover
Map 1: Mirage (Picked by – Virtus.pro, Winner – Heroic, Final Score – 16:10)
Beginning with Virtus. Heroic, the pro's choice, began on the defensive side. Dzhami 'Jame' Ali and his guys took the game by the scruff of the neck after dropping the pistol and a second round, swapping rounds back and forth as Heroic struggled to gain any traction on the attack. Despite Mareks 'YEKINDAR' Gainskis' efforts to block off the CT's rotations towards the plant, VP didn't build up the economy you'd anticipate, as the Danish side broke them near the conclusion of the half to return to a 7-8 score.
With minimal room for error, Heroic accelerated and won the first three rounds as Terrorist to close the gap on Virtus.pro. The CIS team attempted to counterattack, but it was René 'TeSeS' Madsen and Ismail'refrezh' Ali who won it for Heroic and put his team back in the driver's seat, finally running away with their opponent's map pick, 16-10.
Map 2: Ancient (Picked by – Heroic, Winners: Virtus. pro, Final Score – 16:13)
Ancient was a tight match since neither side really took off and showed authority at the start. Despite the fact that a team effort from Evgeny 'FL1T' Lebedev, Timur 'buster' Tulepov, and YEKINDAR saw Virtus. Pro use their reinforcements to thwart Heroic and win three rounds in a row over the Danes, extending their lead to eight rounds after a 5-6 disadvantage.
The first half ended 8-7 in favor of the CIS heavyweights.
Jame and company added to Heroic's misery by winning the pistol round on the Terrorist side as well as the accompanying anti-ecos, bringing the score to 11-7. Heroic then found a lifeline when they put together a modest run of rounds, forcing VP to reconsider their future strategy. The momentum had changed in favor of Casper 'cadiaN' Mllerand and his troops as Heroic briefly led the Berlin Major runner-ups, but the latter had the last laugh as buster and Alexey 'Qikert' Golubev devised a great game-plan to overpower Heroic as both teams traded map picks.
Map 3: Inferno (Ancient was leftover in the veto and was won by Heroic, Final Score – 16:12)
Virtus.pro looked scary out of the start, with Jame accumulating two kills to open up the A site for business, only to be denied by TeSeS, who stole the pistol victory for Heroic. Nothing seemed to work for VP until the ninth round, when they managed to secure another four rounds, closing the first half with only six rounds on the board to Heroic's nine.
Heroic dominated the second half of Inferno, running away with a massive 14-7 advantage and not allowing their opponents to win a single round in that half.
Prior to the former's 2K with his sniper to lock Heroic off the A-site, Jame and his troops appeared absolutely penniless and listless as Virtus.pro began to reset their mental state in the face of the impending regulation. They rebounded to a 15-12 lead, but an A execution saw the CIS side break apart as cadiaN took the final honors and advanced his team to the PGL Stockholm CS:GO Major Semi-Finals.
Heroic will now face the victor of G2 Esports against Ninjas In Pyjamas on Saturday, beginning at 21:00 PM.