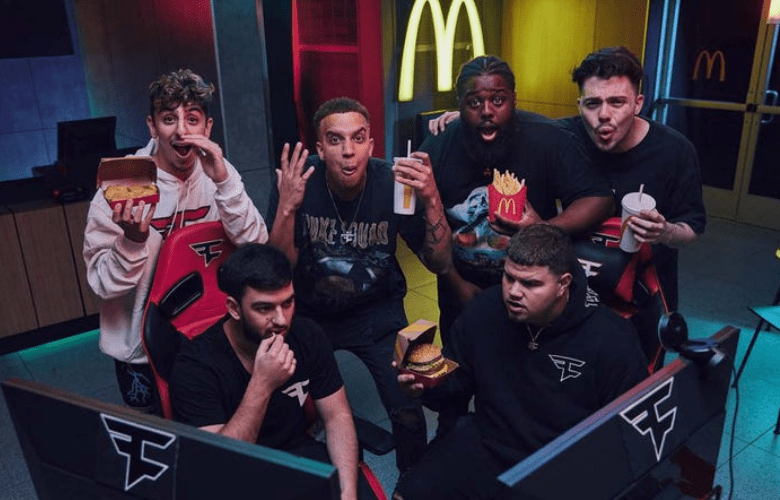 Los Angeles, CA (November 30, 2021) – FaZe Clan, a gaming and youth culture-focused digital lifestyle and media platform, today announced the start of their "Spotlight" campaign in collaboration with McDonald's USA, with the goal of elevating diverse voices in gaming.
The FaZe Clan and McDonald's "Spotlight" campaign, which was previewed on social media earlier this month, began with an enlightening content piece featuring FaZe Swagg and FaZe JSmooth discussing what it means to them to be a Black gamer.
As an up and coming streamer we know how hard it can be to climb the ranks. Spotlight is our way to shine some light this holiday season ❤️@McDonalds | #McDonaldsPartner pic.twitter.com/ygpknGq8Gh

— FaZe Clan (@FaZeClan) November 30, 2021
FaZe Swagg and FaZe Jsmooth will present three livestream events on their Twitch accounts as part of the "Spotlight" promotion, which begins on December 8. Throughout the events, they will connect with a varied group of up-and-coming streamers, offering advise on how to become a great content creator and streamer, from sharing personal tales to offering advice on how to build their particular brands.
FaZe Swagg and FaZe JSmooth will hand out a collection of peripherals to the guest streamers at the conclusion of the streams, as well as an additional present that they may utilize to pay it forward and give back to their own audiences and communities, creating a ripple effect this holiday season.
"I'm grateful for the close-knit community that has sprung up around the Nuke Squad and myself," FaZe Swagg says. "Working with an iconic company like McDonald's to help highlight diversity in the gaming industry and motivate the next generation to pursue their ambitions is an honor and a joy."
"This holiday season, I'm grateful to be partnering with McDonald's to give back to the community that has given me so much," says FaZe JSmooth. "It's really important to me to use my platform to elevate other diverse streamers, and to create a lasting effect alongside McDonald's and my brother Swagg means the world to me."
The FaZe Clan x McDonald's collaboration is based on a series of dynamic content activations focused on diversity and inclusion, ranging from capturing FaZe Clan members' diverse stories and challenges in the growing gaming industry to showcasing underserved and underrepresented youth who are rockstars in their own right.
"McDonald's and video games have a long history. "We've seen gamers evolve from enjoying our cuisine with Happy Meal toys to enjoying it with consoles and controllers throughout the years," said Elizabeth Campbell, McDonald's Senior Director of Cultural Engagement. "In everything we do, we want our clients to feel seen, heard, and represented." The Spotlight program is the newest project in our bigger partnership with FaZe Clan, which strives to authentically connect diverse gamers by elevating their perspectives and promoting more representation in the gaming industry."
Both FaZe Swagg and FaZe JSmooth's Twitch accounts will stream the Spotlight event.