All the necessary details for the first main event of NA VCT Stage 3. North American VALORANT is bathed in sunlight. Eight teams have advanced to the main event of NA VCT Stage Three: Challengers One after a grueling, upset-filled open qualification. Over four days, these teams will compete in a double-elimination bracket, with the best four teams earning a berth in the NA Challengers playoffs in August. At Challengers One, a total of $50,000 will be on the line.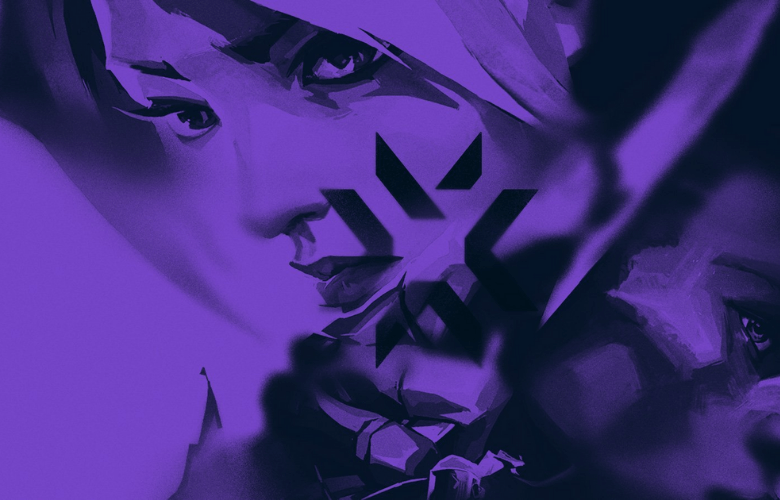 Surprises dominated the final two rounds of the open qualification. TSM, FaZe Clan, Cloud9 Blue, NRG, and Immortals were all eliminated in the round of 32 or round of 16 respectively. As a result, the Challengers pool, Rise, and the Kansas City Pioneers have a few new faces. Rise, which included numerous former Dignitas players, defeated C9 Blue 2-0 in the final qualification round because of supamen's outstanding performance on Astra. Kansas City and VIRTUOSO played in the same qualifying round after each team defeated Immortals and NRG, with the Pioneers advancing barely a week after joining.
Aside from the two new faces and the top teams that were upset, the rest of the field is very recognizable to NA VALORANT watchers. Both Sentinels and V1 used their byes to qualify, however, Sentinels had to come back from a 1-0 disadvantage after losing Icebox to Soniqs—their first map loss since the NA Challengers Finals in Stage Two. They are not the only ones that had to put in a lot of effort to win. DarkZero, who had recently knocked FaZe out of the qualifier, was defeated by XSET in a hard-fought three-map series. After losing map one to T1, Envy had to come back from being in second place on map two. To go past a Noble squad who had just upset TSM, 100 Thieves had to work hard.
The qualifying revealed that the North American area has become more competitive and that the top teams must now fight even harder to maintain their positions. The teams that made it through the qualifying will now compete in the main event.
Participating Teams
Sentinels

XSET Gaming

Team Envy

100 Thieves

Version1

Gen.G Esports

Rise

Kansas City PioneerS
Bracket and Schedule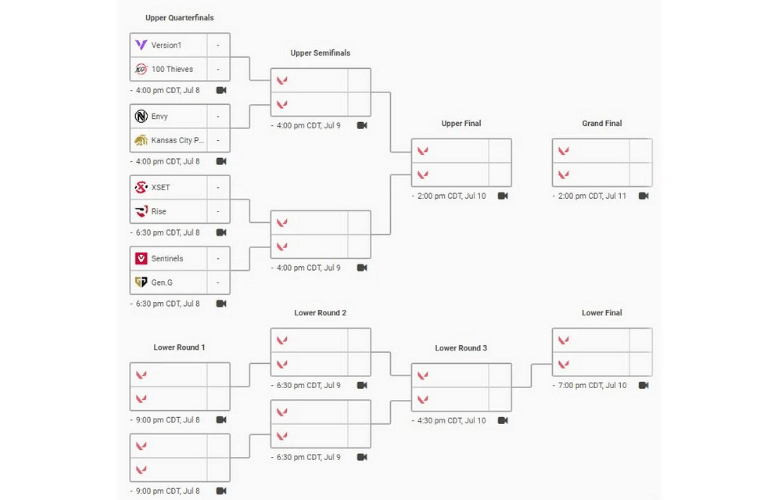 Previews of the first round
July 8
4pm CT: Upper bracket quarterfinals

Version1 vs 100 Thieves

Team Envy vs Kansas City Pioneers

6:30pm CT: Upper bracket quarterfinals

XSET vs Rise

Sentinels vs Gen.G

9pm CT: Lower bracket round one

V1/100T loser vs NV/KCP loser

XSET/Rise loser vs Sen/Gen.G loser
July 9
4pm CT: Upper bracket semifinals

V1/100T winner vs NV/KCP winner

XSET/Rise winner vs Sen/Gen.G winner

6:30pm CT: Lower bracket round two
July 10
2pm CT: Upper bracket final

4:30pm CT: Lower bracket round three

7pm CT: Lower bracket final
July 11