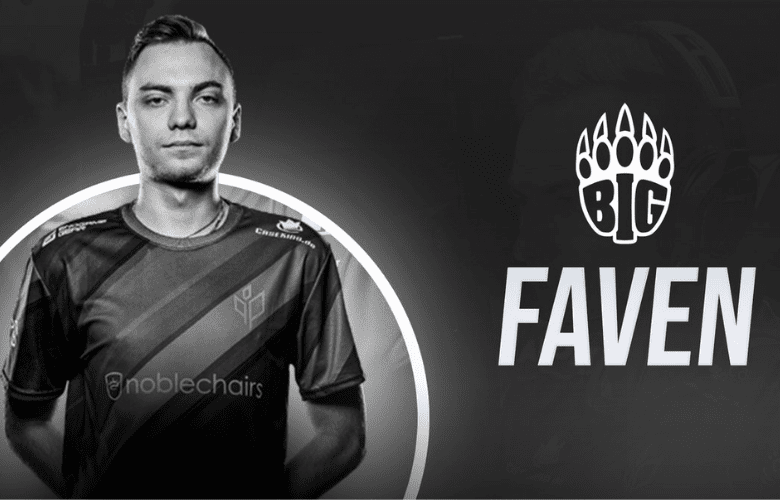 Josef "faveN" Baumann is the latest in a long line of promotions between Sprout and BIG.
BIG has completed the signing of faveN and shifted Nicklas "gade" Gade to the bench to make room for the new recruit, according to the German organization. The 21-year-old joins the team from Sprout in what BIG claims is the most costly agreement for a German player in Counter-Strike history.
His arrival is the latest in a long line of player transfers between two of Western Europe's most powerful organizations, following in the footsteps of coaches Niclas "enkay J" Krumhorn and Tobias "tow b" Herberhold, as well as Florian "syrsoN" Rische and Nils "k1to" Gruhne.
faveN has been anticipated to get the call up for some time, with some extremely excellent results over a three-year career with Sprout and averaging a 1.18 rating in 2021 in his finest year individually since breaking onto the game.
He enters BIG at a time when the team has struggled to improve its results since adding gade during the summer off-season to replace the vacuum left by the departure of Ismailcan "XANTARES" Dörtkardeş to Eternal Fire.
With the Dane, they have struggled to compete for deep runs at the biggest events in the latter half of the season, most recently placing 9th-12th at IEM Winter and 7th-8th at BLAST Premier Fall Final, with a runner-up finish at DreamHack Open November being a highlight of an otherwise unimpressive resumé.
BIG will be expecting to reclaim lost ground and return to the kind of form that saw them fight for crowns in 2020 with the additional boost in firepower.
"With his exceptional performances over the previous 12 months, faveN has been in the international spotlight and has been on the shortlist of many teams," BIG's CEO, Daniel Finkler, said in a statement. "In historical terms, this is the most expensive transfer for a German player, and we are fully certain that faveN, with his excellent abilities and drive to play at the highest level in the world, is a perfect fit for BIG."
"It was always a dream to play for the top German team, and now it has become a reality," faveN said of the move. "My ambitions with Huge are to first become a top 10 team again, and then to win big tournaments; I'm more motivated than ever, and I can't wait to play my first games with my new team!"
Get ready BIG Family, we are going to #GOBIG for 2022. 🔥 pic.twitter.com/5vaN9pGfOO

— BIG (@BIGCLANgg) December 27, 2021