If you are in a hurry and just want to find out what the best streaming microphone for beginner is, then we recommend the Blue Yeti Nano as the best one.
Standing out from other beginner streamers can be easy with the right gear. Audio is one thing that you cannot compromise on. It will make or break your streaming career. Bad video is forgivable, but bad audio is not. Here are the best streaming microphones for beginners, a perfect addition to your streaming gear.
In this article, we are going to review the following streaming microphones:
Advantages Of Having A Streaming Microphone 
Sure there are a lot of gaming headsets out there that have an inbuilt microphone. It works perfectly if you just want to communicate with your friends or teammates in game. But if you want to produce a high quality live streaming channel on Twitch, Facebook, and YouTube and jump start your streaming career. Then investing in a good quality microphone will be necessary.
Interact With Your Audience
A great quality audio for your stream will help you interact with your audience. Plus a lot of people want to listen to live streams in the background. They will listen while doing something else. So for those people who will listen to a live stream, a bad audio will be a deal breaker. Interacting with your audience is a great way to grow your channel's followers. We have an guide on how to build an audience for your live stream.
Makes Your Stream Look More Professional
Having a good quality microphone for streaming, will separate you from streamers that are also beginning their career. When people will stumble across your live stream and see that you have a good quality audio. They will think that you have been streaming for a while and that your content will be worth watching. 
Attract Your Audience
When you start to stream, you will also have to think about the experience that your audience is getting from your content. If you are serious with your live streaming career, thinking about your audience is a key for you to grow your career. 
A good quality streaming microphone will be a great way for your audience to have a positive experience when watching your stream. The sound that comes out of the dedicated microphone will sound great for their speakers or headphones. A solid, streaming microphone will offer a wider frequency response range than a basic headset microphone.
What To Look For In A Microphone
Deciding on what microphone to use for streaming will depend on where you are planning to set up your live stream. If you live near a busy area, you will want to choose a microphone with a great noise-cancelling feature. But there are also ways to help lessen the background noise by soundproofing your room, that will be for another guide. 
Budget
For a beginner friendly budget this guide will review streaming microphones that are less than $100 US. Because not everyone can start with a huge budget.  But if you have a bigger budget, we have an upcoming review for the best advanced streaming microphones. This will be for streamers and gamers that want to upgrade their gear.
Your Environment
An important factor to keep in mind when looking for your streaming microphone, will be the environment that you are currently using when you are live streaming. 
Do you have a mechanical keyboard? Do you have a loud air conditioner? Is your room sound proof? These factors will influence the microphones you will choose in order for you to get a crystal clear voice output for your audience. The chart below will help you in choosing the best streaming microphone for your environment.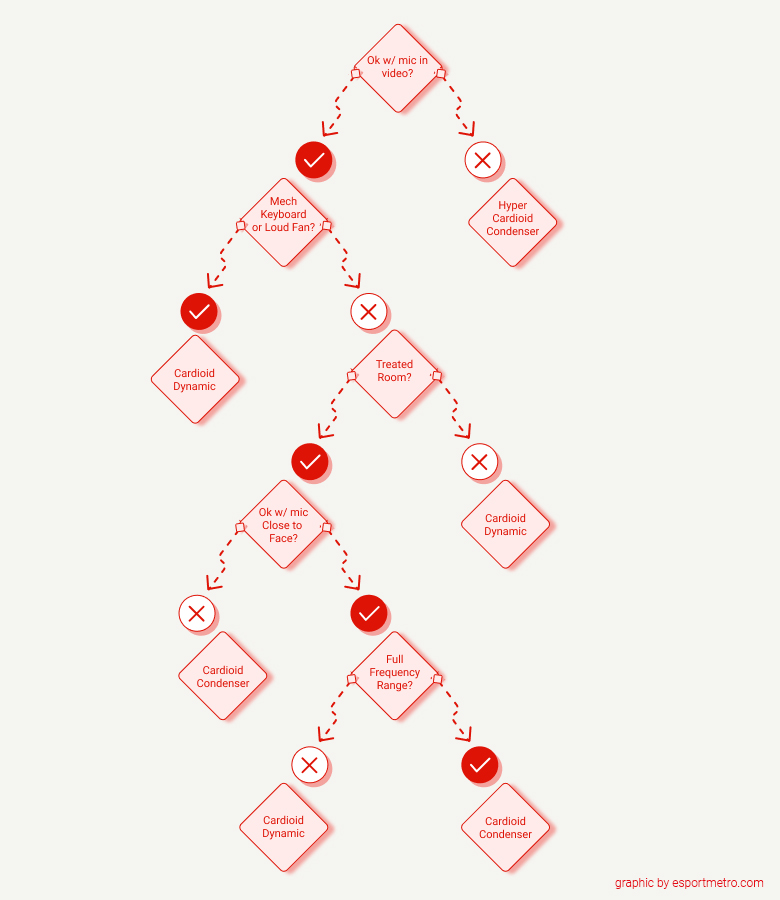 Polar Pattern
There are 4 characteristics of polar patterns that you can choose from. But for the most part we recommend using a cardioid streaming microphone. There are microphones available that can switch between the different types of polar pattern. The polar patterns that you need to understand are cardioid, omnidirectional, and bidirectional. 
Cardioid Pattern

– This is the most used polar pattern. Most of the top streamers use a streaming microphone with a cardioid pattern as their setting. Cardioid microphones pick up sound directly in front of it. These block out unwanted sounds like the typing of a mechanical keyboard or a loud fan or a/c in the background. A hyper-cardioid streaming microphone will have a greater ability to reduce unwanted background noise.

Omnidirectional Pattern

 – Microphones that have an omnidirectional pattern pick up sound from all angles. You don't need to aim this type of microphone because it has a 360 degree sensitivity. But using this type of microphone will create more background noise for your live stream.

Bidirectional Pattern

 – Bidirectional microphones pick up sound from both sides. This is perfect for a podcast when you have a guest. You can place the microphone in the center and it will pick up sound from either the left and right or front and back. But using this type of pattern when you are live streaming will pick up unwanted noise in front of you. This pattern is perfect for an interview live stream.