Gameplay streaming is something many aspiring professional gamers want to take part in. I also participated in recording and streaming my gameplay on multiple platforms. I've spent the past few years learning and exploring how it works and I thought I'd give you the lessons I learned so far.
Before we dive into the beginner's guide to Twitch streaming, here are the essentials for starting a stream. A gaming device, a microphone, a webcam, and a high upload, and download internet connection.
What You Need To Start Streaming On Twitch
Listed below are the essentials you need to start streaming. These are for gamers who are starting out and these are the minimum requirements. Most professional streamers use multiple gaming computers to run an effective stream. But as a beginner, you can start with one.
A Good Computer Or Laptop
Twitch recommends having at least an:
Intel Core 15-4670 or Ryzen 5 3600 processor

8GB of memory(RAM)

A graphics card that supports DirectX 10 and above
A Webcam Or Camera
If you are using a laptop there will be no need to get an external webcam or camera. Because most of the laptops are already equipped with an HD camera. But if you are using a gaming computer you might want to get a decent webcam or a digital camera.
I suggest getting a webcam when you are starting out. Because most of the digital cameras need a hardware called capture card to use the camera as a webcam. So for starters go with a decent webcam.
A Fast Internet Connection
Your internet speed should be at least 3MB per second on your download and upload speed. The faster the better. Take note that fast upload speed is crucial to stream high-quality resolutions. You can check your internet speed at the SpeedTest website.

Twitch Account
This is a must to have in order for you to get started. Head on over to Twitch and create an account if you don't already have one. Here is a screenshot of what the registration page looks like.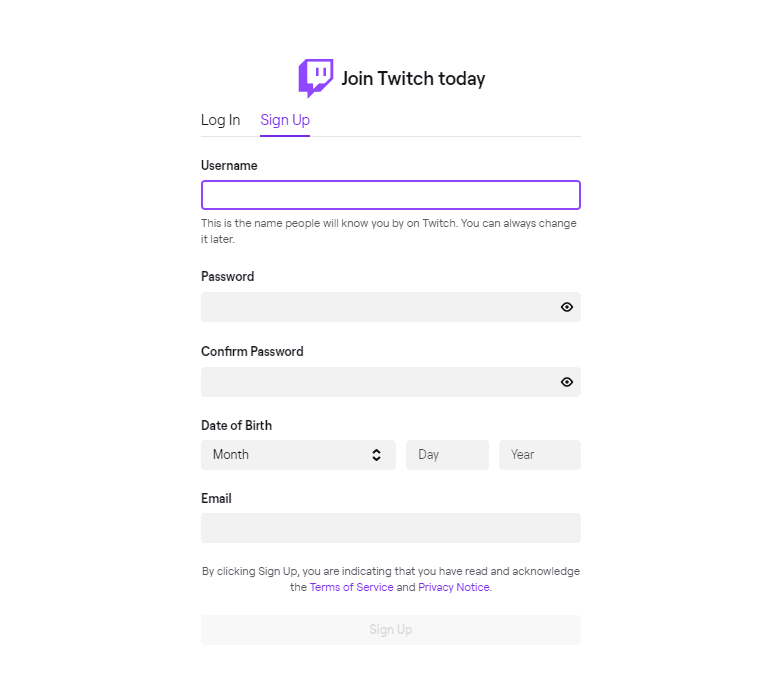 Software To Stream Your Gameplay
There is a lot of software to stream your gameplay available on the market. There are free and paid software that you can use but in this guide, we will use OBS (Open Broadcaster Software).
I have used more than one software when I began streaming. For me, Open Broadcaster Software was the easiest to setup. I'll guide you through the basics of what you need to do.
Download and install OBS(Open Broadcaster Software).

Open settings and select 'Stream' and connect your Twitch account.

Open Twitch in your browser and select 'Dashboard' from your menu in the upper right corner. Select 'Settings' from the left navigation, and select 'Channel' then select 'Stream Key'.

Paste the key in the OBS field called 'Stream Key'
Then you are finished with setting up Twitch inside OBS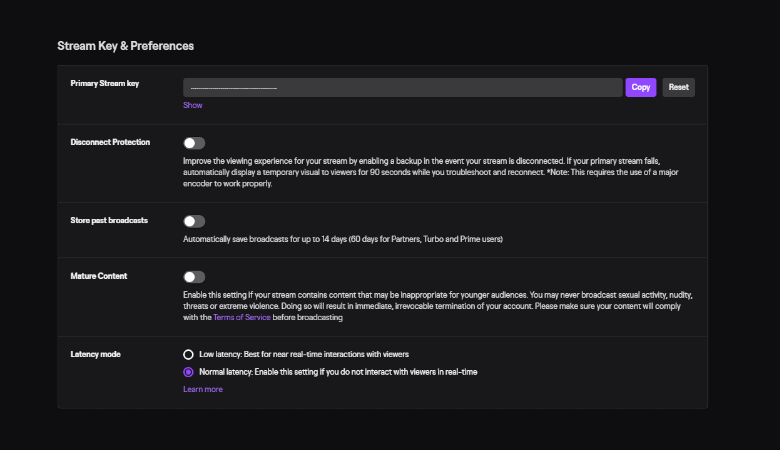 Choose Something To Stream
There is a lot of content you can stream on Twitch.  You can stream yourself playing games. You can even stream yourself working or you can stream with a bunch of other people. You can also start a live podcast.
Turn on OBS and from the scene menu click the plus (+) icon and enter the name of your scene.

On the source menu click the plus (+)  icon again and add a source. This is where you add your gameplay window, audio, and your camera.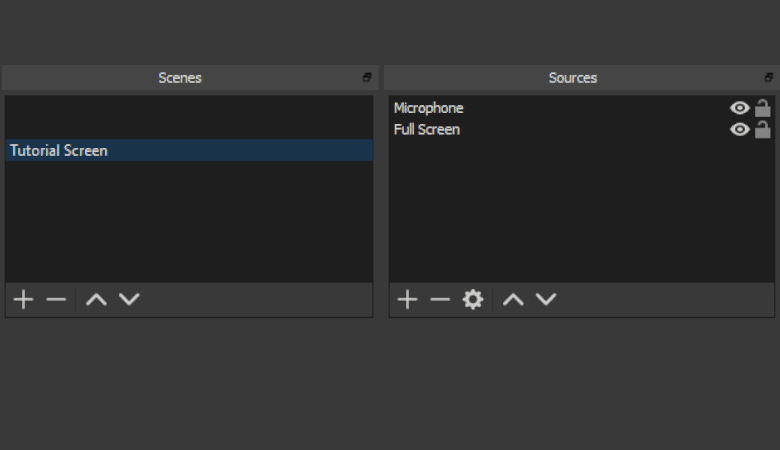 Capturing Gameplay
If you choose to stream gameplay content here are the settings you need to use.
On the sources tab after clicking the plus (+) icon choose 'Game Capture'.

Type the name of the source you want to capture in the create a new source option.

Open the game you want to capture and in the OBS setting select 'Capture Specific Window'.

Choose the name of the game that you opened in the Window drop-down in OBS and press OK.
Take note that the OBS source tab acts as a layer. The source that you put below will be covered by the sources you put on top. So you can add overlays on your stream on top of the game you are capturing inside OBS.
Capturing Your Camera
Having a person that plays the game in streams can add to the viewer's entertainment. It adds personality and uniqueness to your stream. It separates you from other streamers.
Add another source and choose 'Video Capture' and name it whatever you want.

Choose your camera on the drop-down menu and press OK.

Place the camera source above your game source so that it will be on top of the gameplay footage.
Capturing Your Audio
You can also add your microphone so you can interact with the people watching. It also adds another element to your stream.
Add another source and choose 'Audio Input Capture'.

Choose your microphone from the drop-down menu and press OK.
Advanced Tools To Use On Your Twitch Stream
Last but not least, you can add some extra features to your stream to make it more entertaining. Without these tools, you can still start streaming. These are not essential but this can help in getting you more viewers and make them stay in your twitch stream.
Your Branding
Putting a unique logo on your stream is a point of recognition for viewers. It is an important foundation for the branding of your stream. A well-designed logo is an easy way to convey to your viewers that your stream is professional. It also shows you provide quality content.
Overlays
A stream overlay is a mix of graphics that are set up on top of the gameplay video. It will be displayed during your stream. Usually, it's a large, transparent image with multiple elements. It is meant to bring a unique design to the viewer such as stream information.
To add images such as logo and overlay's follow these steps:
On the sources tab after clicking the plus (+) icon choose 'Image'.

Type the name of the source you want to capture in the create a new source option.

Select the image from your files and adjust to your stream window.
You need to use PNG images that are transparent so that the layer beneath your image can be seen.
Alerts
These are shown on your stream when a viewer interacts with your stream. Examples like chatting, donating, and subscribing. You can then let your viewers know how much you appreciate them. Every time they subscribe or donate to your stream in real-time.
The best and most famous service for setting up twitch alerts is Streamlabs. This is a site that you can log in your Twitch account and set up your stream alerts.
To set up your alerts follow these steps:

Tap 'Widgets' in Streamlabs panel.

Tap 'Alert Box'.

Press 'Copy' next to 'Widget URL'.

Open OBS and add a new source for 'Browser Source'.

Name it 'Twitch Alerts'

Paste the URL into the URL field and press OK.

Adjust to your steam window.
You can test your alerts by pressing 'Test Follow' in Streamlabs Alert Box page. You should be able to see the alert show up in OBS with a sound.
Chat
A Twitch bot or a Chatbot is software that can interact with your viewers and is represented like a real person. They are used for completing certain tasks on the channel. Taking some responsibility off your shoulders.
For this guide, we will show how to set up Streamlabs Chatbot:
Log into a Streamlabs Chatbot with your Twitch account.

Make the bot join your channel by clicking 'Join Button' located on the right upper panel of the Dashboard.

Adjust settings of the custom commands, timers, regulars, and other features of the bot.
Usually, bots are installed on channels with a huge number of viewers. The reason for that is an inability to pay attention to every viewer. While bots will not only engage viewers but also protect from spammers and trolls.
Conclusion
I hope this information helps you start your Twitch stream. Once you get past the technical aspects of setting up your stream, personalizing your stream for your viewers will become fun and enjoyable. Don't stress about your gear when starting. Just because your favorite streamer has a fancy setup and streams from two high-end gaming PCs doesn't mean you have to when you first start out.
To be successful in streaming on Twitch you must focus on your content. Show a very inviting personality in which the viewers can relate. In the end, it is important to remember that you are playing video games. It should be fun, the more you enjoy what you are doing the more viewers will enjoy watching you too.