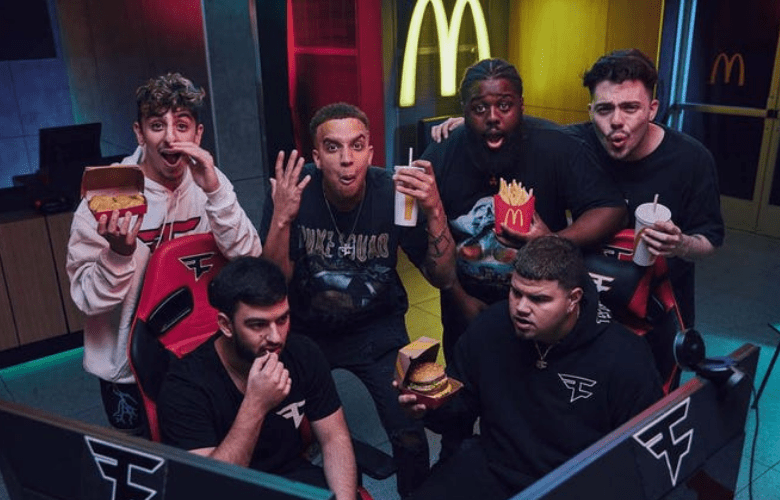 McDonald's has announced a big new sponsorship partnership with FaZe Clan, in which the two firms will collaborate on a series of videos showcasing prominent FaZe Clan members, with the goal of highlighting diversity in the gaming industry.
FaZe Clan is touting the contract as one of the largest fast-food restaurant sponsorships in the gaming industry, and it was unveiled in a video featuring stars FaZe Rug, FaZe Adapt, FaZe Swagg, and others having a good time at McDonalds.
FaZe Clan CEO Lee Trink states, "We continue to take diversity and inclusion to the forefront of our goals at FaZe and are delighted to collaborate with an iconic company like McDonald's that has lead the way." "This is another example of FaZe's brand going outside gaming, and we hope our fans enjoy the material created as a result of this unique partnership."
Despite many competitors announcing significant sponsorship deals, McDonalds has been strangely quiet in the gaming and esports market in the United States. Working with FaZe Clan, on the other hand, will undoubtedly demonstrate the tremendous returns that can be made when partnerships like this are done correctly, as we have seen with many other sponsors that FaZe has signed.
McDonald's USA Franchisee Marketing Committee chair Christopher Mann remarked, "McDonald's is delighted to partner with FaZe Clan to promote the communities we serve and support their passion points in a fun way." "Through this relationship, we're delighted to highlight the gaming industry's rising diversity in order to have a good impact on the future of gaming for youth."
The material that the two organizations will create together will cover a wide range of topics, including looking back at the growth of FaZe Clan members and how they reached the top of the gaming scene, as well as recognizing up and coming talent in the industry. The main purpose is to promote diversity in the gaming industry and to highlight FaZe's and McDonald's efforts in this area.
FaZe on!