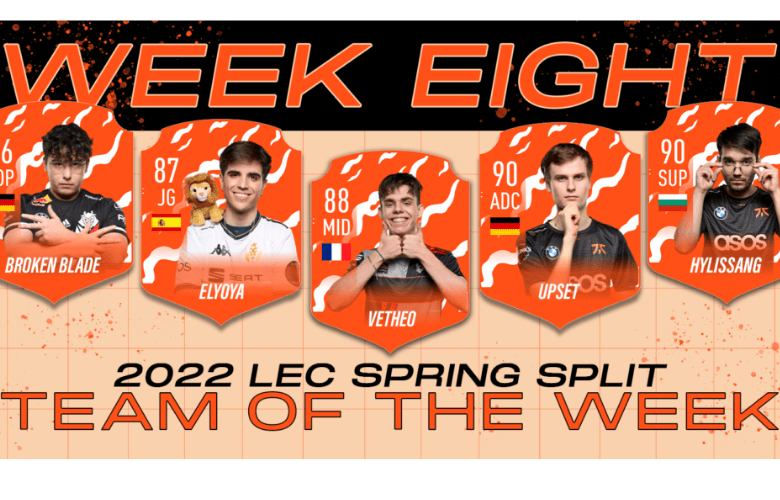 The 2022 LEC Spring Split has finally reached the playoffs after 18 games filled with outplays, backdoors, and upset victories. The European League of Legends scene has whittled down to its six best teams, from postseason first-timers like Excel Esports to surprising non-attendees like MAD Lions.
However, before the playoffs begin, we must recognize the five best players who contributed to a successful final weekend of the regular season. Although the majority of players will be competing for a trophy later this month, one player from a non-playoff team shone bright enough to earn a spot on our final Team of the Week.
Broken Blade capped off a renaissance split with a trio of strong performances in week eight, solidifying his case for an All-Pro nod and propelling G2 Esports to yet another playoff berth.
According to League stats site Leaguepedia, Broken Blade was one of the most unique meta-benders in the LEC this Spring, with 11 different champions played during the split—tied for the most among all top laners alongside Excel's Finn and fourth among all players in the league.
While the rest of the league's top laners were slamming games with meta picks like Jayce, Gwen, and Graves, Broken Blade spent the majority of this split playing outside-the-box carry champions like Akali, Yone, and Akshan—the latter of which he used to pick up a big win over Excel last Friday. Broken Blade and G2 went 7-4 this split when using "off-meta" champions (champions with less than 10 individual picks at the top lane position), while the veteran top laner himself racked up 48 kills across those 11 games, according to League stats site Games of Legends.
The MAD Lions may not have made the LEC playoffs this season, but they did finish off the final super week of the spring with three straight wins over Team Vitality, Astralis, and Team BDS. But it was too late; this last-ditch effort couldn't dig them out of the hole they dug themselves in the second half of the season.